【活動】🏃🏻‍🏃🏼‍🏃‍♀️LC Running Team 語言中心晨跑小隊!3/17 開跑~🌞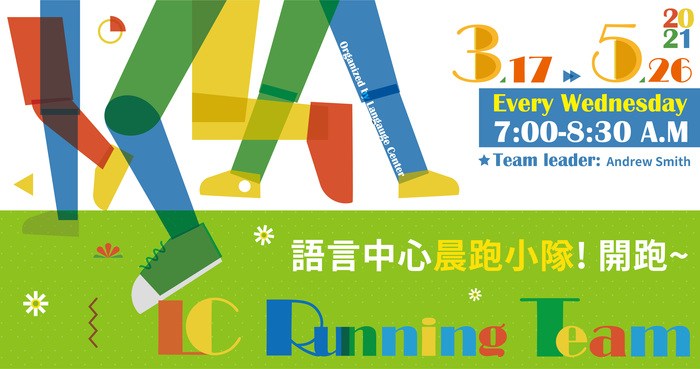 早起日期Dates:From 3/17 to 5/26
早起時間When:Every Wednesday at 7:00 a.m.
要去哪等Meeting point:NDHU Post Office
領跑人是Team leader:Andrew Smith
要先報名Sign-up:https://reurl.cc/aveD0Z search "LC Running Team"
可登錄1.5小時跨域自主學時數
1.5 hour of the cross-disciplinary self learning credits
Hey runners (and people who want to start running)! Who wants to get together on Wednesday mornings to run and speak English?
We'll meet up at 7:00 am by the post office. After stretching and chatting a little, we'll go for an easy 5K run around the campus.
In the future, if people are interested, we could do longer runs, or even sign up for a race (10K, half-marathon, full marathon, trail run, etc.) together!
Hope to see lots of you guys bright and early on Wednesday mornings.
Run for fun! Run for health! Run to improve your English!
人們常說一年之計在於春,一日之計在於晨!就這麼剛好由語言中心Andrew老師帶隊的晨跑小隊就是,在春天,在早晨,慢~~跑~~
你對慢跑有點興趣,但總是少了那麼一點跑起來的動力嗎
?還是你已經是慢跑老腳
,想來聊聊英語呢?每週三的早上記得起床當早鳥,邊跑邊聊英語吧!